History
Ayres Hardware Co., Inc., located at 22 W. Columbia St in Flora has been in operation since 1901 started by the brothers, Charles and Richard Voorhees who sold soon after to the Smith brothers, Charles and Frank. The Smith brothers then sold to Charles E Budrow in 1905 at which time the business was known as Budrow Hardware. About 1910 Budrow sold a one-half interest to Charles Smith a former owner and the business became know as Budrow and Smith.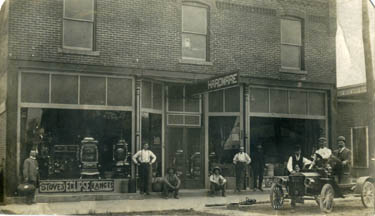 Clayton F. Ayres accepted employment with Budrow and Smith in 1916 and his nephew William H Ayres accepted employment in 1919 after his return from service with the U.S. Army in the first World War. In 1921 Clayton Ayres and William Ayres purchased the interest of Charles Smith and the business again became known as Budrow Hardware Co. which it remained until 1941 when Clayton and William Ayres purchased the Charles Budrow share of the business. They retained the Budrow Hardware name until Mr Budrow's death when it became known as Ayres Hardware Co in 1958. The business was reorganized into a corporation known as Ayres Hardware Co., Inc. with Clayton Ayres, Grace Ayres, William Ayres and Annis Ayres as principal stockholders. After the death of William Ayres the stock of William and Annis Ayres was purchased by Tom and Beverly Ayres. Principle stockowner is now John E Ayres, son of Tom and Beverly Ayres. Tom retired in 1982 and Beverly retired in 1995. Ayres Hardware quit selling housewares in 1995 and concentrated on Maytag appliances. Over the years Ayres Hardware has owned and operated a furnace and air conditioning business, a water softner business, and a propane gas business.

The business has been in continuous operation as a hardware since 1901 except for a brief interruption in February 1923 when a fire destroyed most of the merchandise and severely damaged the interior of the building. In 1976 there was another fire, damaging the upper storeroom. Following the fire the store was remodeled and looks the way it does at present. Additions and expansions have taken place many times but principally in 1923, 1938, 1951, and 1968. The last expansion in 1968 took in the building East of the original location which was owned and occupied by Roy Good who operated a harness shop and later an auto agency, garage and filing station. The West half of this building was at one time a movie theatre and the murals on the wall painted by Raymond Devinney were still visible at the time of remodeling.

Today the business is run by John E Ayres and his son Joshua S Ayres. Alan F. Ayres, son of Tom and Beverly Ayres, has been a long time employee. When John E Ayres retires the business will be passed on to the 4th generation, Joshua S Ayres.